13th October 2017
974 Views
Regular readers of GOtilo – and indeed many of you who are interested in the future of East London's local spaces, London's rapidly homogenising nightlife scene, or indeed the future of our local communities as they are assaulted by corporate interests, will be aware that we have been huge supporters of Passing Clouds. Now, once more, the movement that stands for independence, community and connection in our urban spaces, and stands against homogeneity, greed and spite, needs your help.
Passing Clouds was a legendary, hippy-chic venue in East London, famous for supporting a range of new and upcoming artists, putting on great shows featuring an eclectic variety of artists covering Afro-beats, jazz, cuban and more, and featuring gorgeous murals on their walls that gave life to the elegantly ramshackle backstreet on the corner of Richmond Road and Glebe Road, Dalston – the author's own place of residence.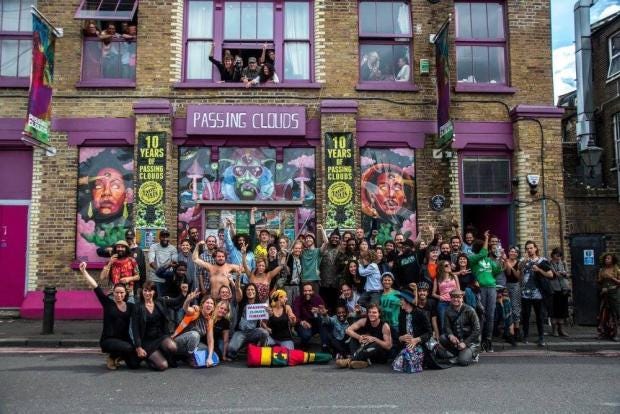 Then came the corporates. In one of my previous articles, republished in The New Statesman, we described what happened to them when a moral-light developer got their paws on the venue.
'Consider Passing Clouds, a social enterprise which put on club nights, gigs, permaculture and yoga classes. It occupied a building that was once daubed in beautiful murals.Then the building was acquired by a speculator. The social nights carried on – until police were called in. The building was locked. Huge notices were put up saying that dogs patrolled the premises. The murals were daubed over in grey.

This building has been empty, now all but derelict, for months. A community hub now looks like the watchtower of a prison camp. In this new world of barter and exchange, grey paint and police dogs are preferable to joy and connection and aesthetics.'
This is what it looks like now.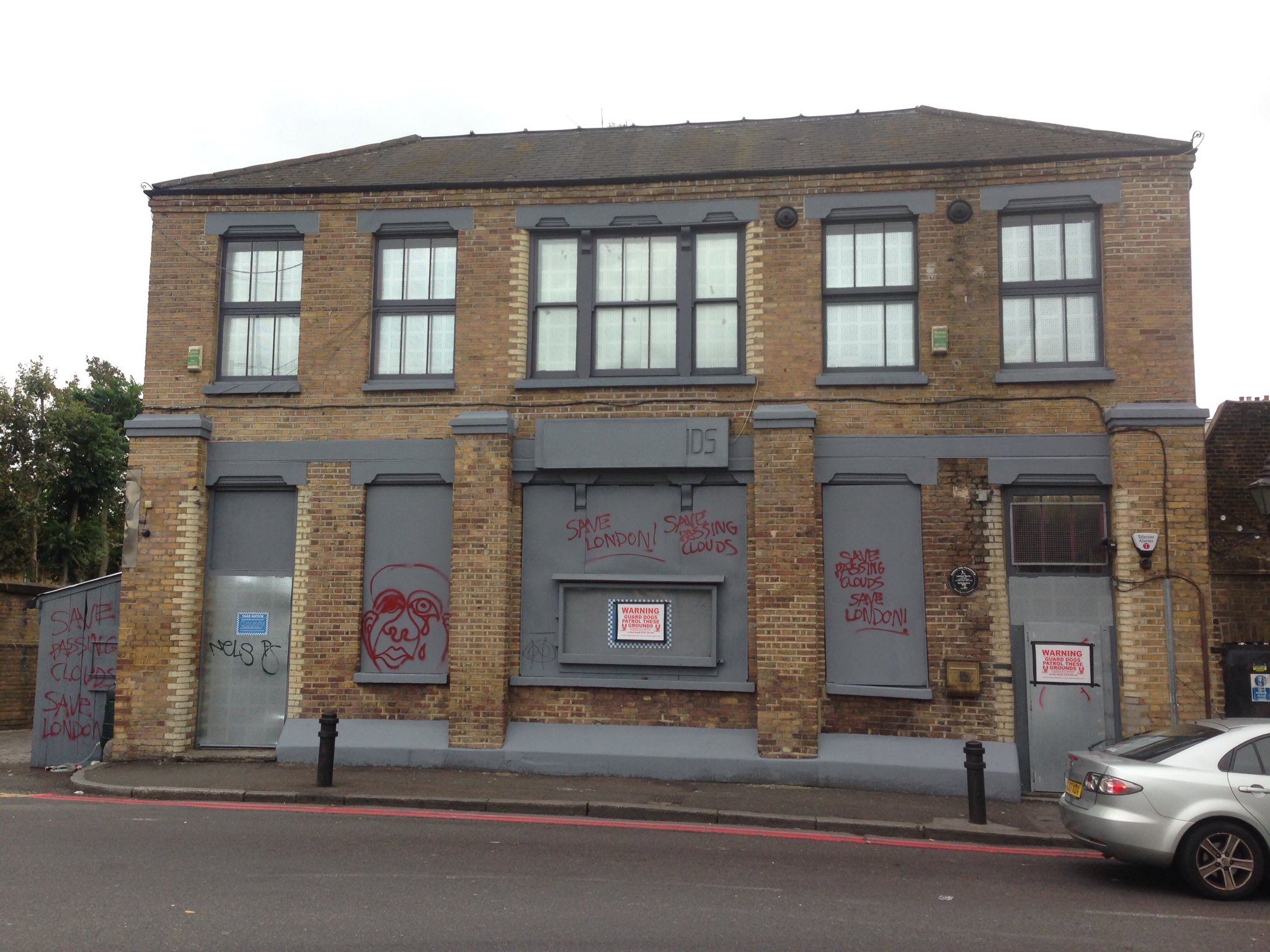 The battle to save Passing Clouds has been going on behind the scenes. Campaigners achieved a small victory by getting it designated as an asset of community value – too late to save most of those murals from the grey, spiteful paint. Now the final planning application to redevelop the site goes to council; the idea is that for a huge rent hike, the venue will be extended and redeveloped. Such a hike will be good for business, natch, but it will shut out genuine community activity. Opposing the application  – and ensuring that a community venue genuinely benefits the community,  not some private landlord – is the only course.
I'll let the ask be made by Passing Clouds' organisers and supporters, in their own words:
PLEASE INVITE EVERYONE YOU KNOW TO THIS INVITE!
DEADLINE IS MIDNIGHT THIS SUNDAY! 
Dear wonderful, inspiring Passing Clouds community! 
The campaign to save Passing Clouds from development is in its final showdown phase!
WE NEED YOUR HELP to win the final battle! 
As you know, Passing Clouds successfully won ASSET OF COMMUNITY VALUE status from Hackney Council following the March to Save Passing Clouds in September 2016 which some 2000 people attended. 

We now need to block a planning application by Landhold Development to put the planning permission into their name and add a floor on the top that can easily be turned into flats at a later date. 
Please can you take 5 minutes to OBJECT to the PLANNING APPLICATION! 
It's simple! Just click on this link and click on ADD COMMENTS HERE!
Here is the link! 
http://planning.hackney.gov.uk/Northgate/PlanningExplorer/PLComments.aspx?pk=258239
PLEASE NOTE! If the link isn't working it's because of too much traffic! Just try again in 5 minutes! You will get through!
Alternatively email the planning officer direct at Gerard.Livett@hackney.gov.uk. Let him know the link isn't working and many people have been unable to submit comments. This may give us an extension!
Please write passionately about why you are OBJECTING to the planning application and why we should preserve Passing Clouds' Asset of Community Value status! 
Suggested points to make (in your own words) include
1. Passing Clouds was made an Asset of Community Value by Hackney Council and therefore the planning status should not be changed! 
2. The Passing Clouds community demands its right to a public hearing on the future use of the building. 
3. The Passing Clouds community is ready to relaunch Passing Clouds as soon as the developer is ready to negotiate with us! 
4. Passing Clouds is a highly valuable asset to the community and cannot be operated by any other operator in the same way!
5. We see no evidence that the developer intends to uphold the asset of community value status.
Please put into your own words and write as passionately about how important the Passing Clouds community is to YOU! 
If we get several hundred comments then the council WILL HAVE THE POWER TO BLOCK PLANNING! 
So PLEASE FORWARD this email to as many Passing Clouds loving friends as you can! 
WE CAN DO THIS! COMMUNITY IS POWER! 
LOVE ALWAYS, #PassingCloudsForever!
We can do this, right?
Please, please share this on twitter via @lovegotilo and/or using the hashtag above or on Facebook via the London Ethical Explorers Group and/or Passing Clouds Radio.